What we provide

We take the time to understand your business and how Telecommunications and IT play a role in your success.
We sell, service, and support a wide range of NEC based solutions for small office, enterprise, and multi-site locations. NEC is strong technology partner. This is one of the main reasons we are a NEC exclusive dealer. NEC hardware and software is world renowned for its reliability and innovation. For more information on
NEC
please see our page labeled Partners.
We will work with you to define the strengths and weaknesses in your IT services and support. We will work with you to identify how to best spend your scarce IT funds and look for ways to mitigate weaknesses and increase efficiency in your voice, data, network and the end user perspective.
To see more details on what to expect, click here.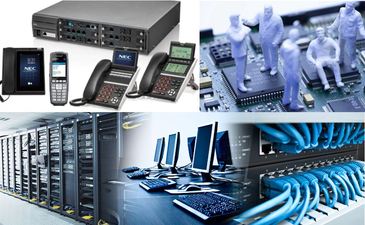 NEC Products & Services

NEC Univerge SV9100
NEC Univerge SV9300
NEC Univerge SV9500
UCaaS Cloud Services
Call Recording
Conference and Collaboration
Unified Messaging
Unified Communications - Enterprise (UCE)
Unified Communications - Business (UCB)
We also support a large number of NEC Legacy Products


I. T. Products & Services


Network Service and Support
Infrastructure Service and Support
Desktop Service and Support
On-Site and Remote Network Support
Hardware purchase assistance
Wireless installation and support